OVERCOMING ANXIETY:
Finding Peace, Discovering God
#1 Crossing the Bridge of Hope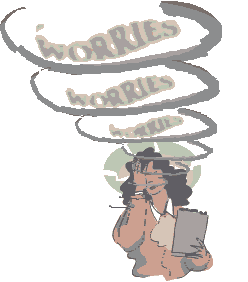 Journeying with God
from worry to peace.

#2 Understanding Worries
Understanding how worries
are linked to our hearts.

#3 Getting Personal
Accepting responsibility for our worries.

#4 Discovering Patterns
Discerning the connection between anxiety
and anxious thoughts.

#5 Coping with Worries
Realizing that only God can help us when
anxious thoughts strike.

#6 Destroying the Roots of Anxiety
Detecting and destroying the roots of anxiety.

#7 Foiling Temptation's Plan
Finding deliverance from the temptation to worry.

#8 Handling Panic Attacks
Discovering and understanding the three stages of anxiety.

#9 Taking Steps to Eliminate Anxiety
Learning the seven–stage process to overcome typical worries.

#10 Becoming An Overcomer
Creating a testimony by overcoming difficult worries.


Go to the Seminar page
As November approached this year, memories of God's great dealings with our family and the development of BFF have been on our minds. Paul especially remembers the beginning of BFF. Low on his knees, broken, with tears streaming down his face, he cried out to the Lord for direction and provision.
BFF was born
. We are astonished to see how much God has blessed us and others through this ministry over this past year. The actual web site didn't begin until February/March, but we now have more than 450 pages posted. God has been providing insight after insight into His Word resulting in too many ideas to put down! We are very conscious of the difference your prayers have made to this ministry.
Here is one simple example of God's amazing leading. Two months ago Paul had no idea that he would develop and lead the seminar, "
Overcoming Anxiety: Finding Peace, Discovering God."
This idea and format sprang up from a lesson that the Lord taught him, "Minister to others where they are hurting." (We have included below a description of the seminar.)

Paul and Linda have also greatly appreciated how God has been working in our own lives.
We sense that if God wants to renew His people, He needs to teach us lessons first. We wonder what lesson we will need to learn next..

Paul desires to see God's powerful truth minister to needy people. A verse from Luke 9:2 was used this morning to speak to him.
"And He sent them out to proclaim the kingdom of God, and to perform healing." (Luke 9:2).

Paul believes that not only is the kingdom of God to be proclaimed but healing needs to take place. We need to step forward in faith that with the proclamation of His truth people will actually be healed. For example, I think of these 50 attending the seminar or the 100+ pages (average) being read each day on the web by people with needs. They need God's mighty Spirit to bring deliverance.

"And pray on my behalf,
that utterance may be given to me in the opening of my mouth,
to make known with boldness the mystery of the gospel,
(Ephesians 6:19).
Thanks to God!

Requests to God


Praise God for an excellent turnout and presence of God's Spirit for the seminar's first session.

Thank the Lord that we got the slide set projected on the screen via a brother's laptop computer and a projector.

Praise the Lord the "Humility, not Pride" series was completed on time.

Praise God Paul had an opportunity to attend a very timely free training seminar on developing Libraries, movies, etc.

Thank the Lord with us for BFF's one year anniversary!

We are thankful that daily readership continues to increase.

We are grateful that Paul had time and concentration to work out a full outline of the seminar. Praise God for an excellent turnout for the first session of the seminar.


Continue to pray for the Holy Spirit to mightily use this seminar each Sunday evening. Pray for God's perfect peace to touch each heart. One man from China will be here for only 6 months.

Pray for more openings to teach this seminar.

We did borrow an LCD projector, but it is too small. Ask God for use of a larger LCD projector.

Do ask for greater grace to learn new technology to better distribute the materials.

Pray for protection and peace as Paul develops and teaches this seminar.

Pray for wisdom and God's leading as he finishes up the materials on overcoming anxiety. He is trying to present just what God would have him show, say and write.

Continue to pray for full strength and restoration for Linda and good health for all.

Ask for insights as Paul prepares the Godly Man series on "Grace and Graciousness" due at the end of the month.