What happens if I don't forgive?

We do not need to look far to find a bitter person. Unfortunately, bitter people seem to stand out wherever they are, much like a sore thumb. Bitterness develops from not forgiving another person. How? We start with the seed of an unforgiving heart. Here are three kinds of such seeds.
Often the problem is just a misunderstanding. We refuse to give any benefit of the other person's intention. We assume they deliberately did a wrong against us.
More often, there is some wrong, but it is exagerated with our suspicion.
Then sometimes, there are just those plain hard wrongs done against people.

It doesn't take many days on earth to experience a wrong against yourself. If you forgive, then no seeds of an unforgiving spirit are planted in your heart. If you respond with unforgivingness, then you have a seed in your heart that slowly but surely develops into a root of bitterness. God has not made our systems to manage this bitterness. The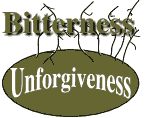 scriptures say,
"See to it
that no one comes short of the grace of God;
that no root of bitterness springing up causes trouble,
and by it many be defiled;"
(Hebrews 12:15, NASB).

Roots develop from the seed and supply a network for nourishment and security for that seed. Unforgivingness always develops bitter roots in our hearts. These roots of bitterness then attempt to spread to our whole life.