Introducing Your Trainers!
After we have signed up, we need to start training. Confession leads us to the place that we can accept training. Up to that point, we are not convinced of the benefit of training. The training will not only be part of our life, but it will be our life.

Training involves repetition so that the routine becomes part of the way we live. We desperately need good training. Just think the last time you made a big effort to overcome your bad habits! How long did you last before you were scampering about like a dog with its tail between its legs?

Let me introduce you to your three God-appointed trainers who will both train and run with you right to the end of your noble race: Faith, Hope and Love.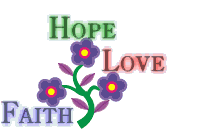 But now abide
faith, hope, love, these three;
but the greatest of these is love."
1 Corinthians 13:13, NASB