We prove His
Lordship (Ro 14:7-8).

We affirm His Lordship
by living for Jesus.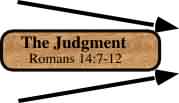 We are not Lord and therefore not Judge. (Ro 14:10-12)

1) It is not our place to judge our brothers.

2) It is our duty to ready ourself to give an account of yourself to the Lord.