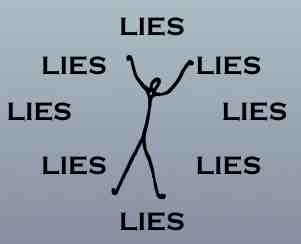 Did you ever tell a lie? If not, you probably are lying to yourself.

Why not lie? Everyone does it, don't they? Do they? Should they?

If we have been living in the circle of lies, you probably have a very hard time understanding why anyone wouldn't lie, especially when it doesn't 'hurt' anyone. Many people even think lying helps people. I find it interesting that one of the small accountability groups that formed part of the revival group back in England would each week ask each other whether they have done this or that. They would have to answer yes or no to see how faithful they were through the week. The last question asked, "Did you just lie in answering the above questions!"

Salvation is best described in three stages. Justification describes the first stage when we are forgiven through our faith in Christ, become God's children and receive a new nature.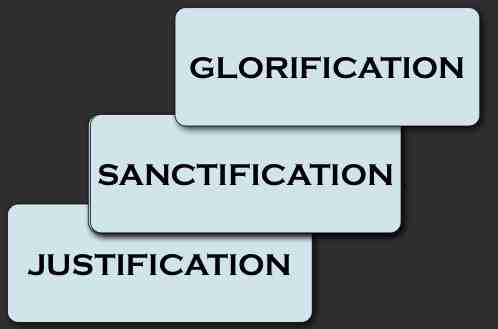 Sanctification describes the process by which we step by step put off sin's hold on our thoughts, decisions, attitudes and behavior. This is what is happening now to Christians who are still on earth. Glorification describes the final purification of our bodies and hearts by living in God's full presence when we go to be with Him.

These categories are important to know because they largely describe what should and can be happening in your lives right now.

Let me give you a couple of examples of what I hear Christians say. "I can't help it (sin in a certain way). "That is the way I am." "I don't think I can stop doing that." For an unbeliever this might be true but for a Christian it is never true. God wants us to grow. So how is it hat you insist that you cannot overcome this or that sin? Basically, one of two things are true. Either you are not a genuine Christian and do not want to overcome sin or you are convinced by a set of lies about yourselves. If you really want to please God, then you should not question whether you are a Christian. Instead you should confront your true problem. You believe some lie about yourself. Satan is clever. He gets you thinking a certain way early in your Christian life, and you begin to live that way. What will happen if you don't believe you can overcome sin? You won't! This is the reason early discipleship is so crucial.

We get so used to lies in our lives that we no longer think what is true or not. I want you to repeat this statement, "Those who say lies, believe lies."

Those who say lies, believe lies.

When we look at Ephesians, we find Paul strongly countering the many lies that the evil one has planted in believers lives. In chapters 1-3 the apostle first points out what God has positionally done for us in Christ Jesus but then in chapters 4-6 of Ephesians shows us how to practically live out our position. Think of it like this. He first shows the president his great air force. But then shows what an air strike can do. Seeing these things would help the president know how to handle things if someone was to invade his land.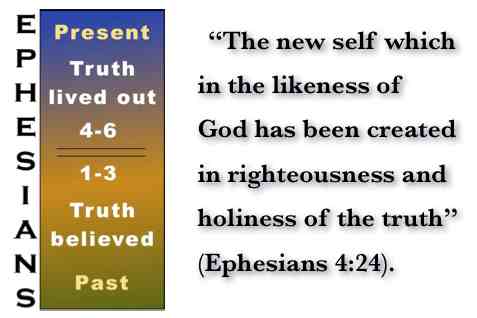 The church is weak today because many unbelievers feel comfortable in the church because it is so much like the world and because. Believers, on the other hand, have been duped by the evil one that their condition is acceptable.

Paul has just given to us in the former section an understanding of how the new nature of man works against the old nature. The new nature of man, the new man, is as Paul says in 4:24, "which in the likeness of God has been created in righteousness and holiness of the truth." (Ephesians 4:24). We all can reach that goal. Paul is going to tell us how step by step. If you join Paul in following the steps he prescribes here, you will live a strong Christian life. The first has to do with replacing lies with the truth. All sins are born in the pit of lies and darkness. Learn to hate lies, and you only can grow stronger.

As we go through this passage, we want to look at three aspects of telling the truth. The first describes the difficulty in telling the truth. Telling the truth does not come easy. We must lay aside falsehood. Unless we have done this, there is no moving forward. Secondly, we must actually speak the truth–the necessity of speaking the truth. This is hard. If we naturally did it, then there would be no need for him to tell us to do it. Putting aside falsehood first is crucial, then he instructs us to speak the truth. Lastly, Paul provides for us the reason for speaking the truth. This is important especially when evaluating our own conversation or when we are battling between saying the truth or not.

Memorize this short verse with me. "Therefore, laying aside falsehood, speak truth, each one of you, with his neighbor, for we are members of one another" (Ephesians 4:25). Not so hard is it?!

A) The Difficulty of Speaking the Truth (Ephesians 4:25a) Next =>
B) The Necessity of Speaking the Truth (Ephesians 4:25b)
C) The Reason for Speaking the Truth (Ephesians 4:25c)