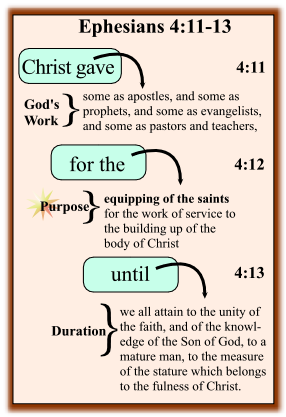 Ephesians 4:11-16 is one of the most powerful passages in the Bible after the cross. We are not only to understand what God has done for the church in Christ by His saving her but what He saved her for. We must not only get excited about the work of the cross but also the purpose of the cross.
Paul the Apostle has clearly elaborated on the salvation of the church in Ephesians 1-2, but continues on and presents to us here the reason Jesus died: God is creating a people to wholly love, trust and serve Him. Until this truth has besieged our souls, we are victims of the world's philosophy of life.
We will look at this passage in two sections:
A) God's Work in the Church (Ephesians 4:11-13) and
B) Our Responsibility as the Church (Ephesians 4:14-16).
The first section is outlined in the diagram on the left. Note how the three verses go together. This is what makes this section so powerful. The diagram shows how the individual elements are related to each other.
But before we look closer at these verses, ask yourself,
"What makes a great church?" and "What makes a bad church?"
Do not only give your opinion of your own local church but of your knowledge and experience of the church as a whole. The thing that you can identify that make a good church will be mentioned in the verses below. Poor churches have engaged in a distorted form of what is stated in Ephesians 4:11-16.
The first section (Ephesisans 4:11-13) gives the framework for building a glorious church. The later section (Ephesisans 4:14-16) enables the church to work within the frame Christ has provided. As much as she stays within the general provisions of the Lord, the church will do great. But if she, and indeed she has in many cases, steps outside of her God-given boundaries, then she will suffer and eventually die.
This is the beautiful design for what God wants to do in the church right now. Let's see how it works practically works out! Next =>