"5 For this reason I left you in Crete, that you might set in order what remains, and appoint elders in every city as I directed you." (Titus 1:5)
Paul says much more about qualifications for elders, however (this is a continuation of the previous section). This is where some controversy might arise. Paul says that he should appoint elders (plural) in each city. This might sound straightforward to some, but many churches do not carefully follow the guidelines seen in these verse. Of particular import is how the word elder is matched together with the word 'overseer' in Titus 1:7. Allow me to discuss how a church organizes itself around certain key words and concepts.

A denomination is a group of churches that is run the same way or under the same authority. Some cannot comprehend a large group of churches without a central authority, but some denominations are very loosely associated. They are wary of strong authority that has led other denominations astray. We can see advantages to both, but when we look at the present scene where many denominations are led by leaders who deny Christ's lordship and His Word, we can see that we always need to be careful who steps into leadership.
It is interesting, almost ironic, that in this one passage we find the term for elder (Titus 1:5) described as overseer (Titus 1:7) (bishop in some versions). The world elder comes from the Greek word 'presbuteros' from which the Presbyterian church gets its name. Elders rule. 'Overseer' gets its name from two Greek words combined together much like the English, "over seer' or episkopos. The Episcopal church gets its name from this word. Both of these denominations get their names from the way the church is ruled. One is ruled by elders and the other by bishops.

But what Paul does, as if he could see into the future, is to strip each of the terms from these extreme views. He simply equivocates elders (verse 5) with overseer (verse 7). Some might think the bishop in verse 7 is different than the elders, but it is obvious from the word "for" in verse 7 that he is merely expanding the qualifications of the elder. Elders is the system that the Jewish synagogues used. The word 'over seer' did not have that position which bishop today has come to have. It simply meant to keep watch over, that is, oversee, the flock. Most significant are these verses.

Be on guard for yourselves and for all the flock, among which the Holy Spirit has made you overseers, to shepherd the church of God which He purchased with His own blood. (Acts 20:28).


"Paul and Timothy, bond-servants of Christ Jesus, to all the saints in Christ Jesus who are in Philippi, including the overseers and deacons" (Philippians 1:1).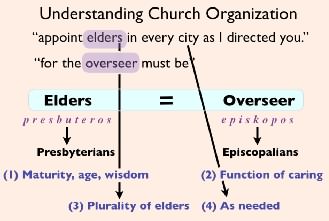 In Acts 20:28, we see the duty of the overseer. He is to shepherd the church of God. This is the idea of pastor but with a special title of overseer. Only in Ephesians 4:11 is the word pastor used as we commonly use it.

"And He gave some as apostles, and some as prophets, and some as evangelists, and some as pastors and teachers" (Ephesians 4:11).

But the point of Paul using elders and overseer in a synonymous way speaks volumes in how we should not be preoccupied with administration and central organization. Granted this church is in its early stages, but the function of caring for the flock must be primary. In many denominations, organization has become primary. Although our church might insist, "This is the way it has been done," we should see that this mentality leads to problems.
Paul is setting up guidelines on the way it should be done. Although having said this, we also should recognize that this arrangement of leaders is very fluid and allows for some flexibility in ecclesiastical organization. Paul is concerned with safety, protection of God's Word and genuine care from shepherds that truly care for the flock. This form of leadership is easily replicated.

Lastly, we should comment on denominations such as the Baptists. The text speaks of appointing elders in every city. If you are familiar with the Baptists, you will recognize them as having only one elder, that being the pastor. The term 'elder' is rarely used, however. Paul indicates that the plurality of elders is good. I have been part of many congregations, each with their own different traditions.
I once was part of a Baptist church that broke with tradition because it became convinced in the importance of the plurality of elders. They became an unconventional Baptist church with a plurality of elders. Other churches have done the same. Following Paul's instructions will safeguard a church to some degree. But we would be foolish to separate the organization of the church separate from the qualities. Unfortunately, even with a well-organized church, men in service of God can fall into sin and bring great harm to the church.

It is clear that the CEO of the church is Christ Himself. Christ is the Chief Shepherd. We purpose to serve Him in faithfully making sure the right leaders are in place and that they are carefully watching over the flock.

Church government is accidentally mentioned here. Paul does not belabor it. It does not play a major role. This is only one verse. He could have said so much more. But we must remember that we learn from what Paul did write and from what he did not write. He did not belabor this point of organization. In fact, by examining length of discussion the quality of leaders is more important than the organization of the church. We should only remember that we are expecting all men to grow up into leadership and that leadership is fully dependent upon qualifications seen in their personal conduct.

One other organizational concern can be mentioned. Some groups like the Local Church has stressed too much the aspect of one church in one city. It is fine if there is one group of Christians in a certain place. This is what we find throughout Crete back then. The word 'city' is used differently now than back then when it basically distinguished enclosed towns from villages. Cities were protected places where villages had no protection. But we do not need to focus on this.

Paul is not saying that there should only be churches in the city and not the villages but simply recognizing the fact that groups of Christians first develop in city areas. Paul's words simply mean that where there are groups of Christians in different areas, set up the church and appoint leaders. Do not allow them to go without a shepherd. Paul's heart is to reach out to these vulnerable Christians. It might be hard to go up and down this 160 mile island caring for these 'baby' churches, but it was necessary until Titus could set up functional churches with their own proper leadership.

Paul is not here stating that each city was to only have one church, no matter what the size of the city. Paul is only saying that where there are groups of Christians, set up a church and appoint leaders. It is arrogant for one local church to state that they are the only church in town. This is very unChristlike. Christ is for the expansion of the church, not the restriction of His church. May we instead proclaim Christ as head and seek the Holy Spirit's marvelous work in our lives so that His church grows out of our control (though never out of His). Where there are God's people, we need to make sure they are watched over.

Again, we are taken back to the character of the elders rather than all the extras. Why? It is simply because through such leaders the Holy Spirit can bring comfort and exhortation to the people of God. God cares about the sheep. Any good shepherd cares about the sheep and not concerned about his position or how people perceive him.

Perhaps we can summarize by stating that it is more important who is appointed than how the church is structured. We should not totally ignore the structure of the church. It needs to be done. This is Paul's intent here. Neglecting to appoint leaders will allow bad leaders to form or come in.

Application

• Be committed to a congregation. Don't be put off by bad leadership but submit to local church leaders. Some of us, because of bad leadership examples, have rejected the concept of leadership. They want to be on the sidelines where they are not hurt. This is a suggestion from the devil. Paul is purposely countering these thoughts. Establish order. Appoint elders. Are you part of a flock? Without being part of a flock, wolves will try to get you. The appointment of leaders means that it is biblical for you to be under leadership. The Lord extends His care for you through this leadership.

We have spent much time addressing church organization, but now we need to spend even more time focusing on the kind of leaders that the church should have in Titus 1:6-9.

Other related articles from Biblical Foundations for Freedom:
Learn more about the whole leadership training process,

The Flow

.

Find out what one can do with a person in your church that is

interested in full-time service

? The lack of character holds back many leaders. Take a look at our

Godly Man

series.