Did you ever want to know what was going on in the mind of a person? If we could understand how they thought, then we could understand what they do. If you could ask get a clear picture of how a certain CEO thinks, then you would know how the company is going to be steered in the near future.
I think a lot of people misunderstand Christianity because they do not understand Christ. If you think of other religions, their so-to-speak CEOs are dead. Its founder, the Lord Jesus Christ however, is still leading Christianity.
In today's verses we will actually see what principles so drastically shaped what Jesus Christ did. They provide for us an amazing revelation of the person and life of Jesus Christ. But even more stunning is that the very same principles that shaped Christ's life and priorities are also the ones that are to guide our lives.
It makes sense, doesn't it? If we want to be like Jesus, then we must think and operate like Jesus.
We have lots of people that are thoroughly confused at what genuine Christianity is all about. Many, including lots of Christians, think Christ's life is not very relevant to our own lives. I suppose it is because people don't understand what is being said here. Let's note four kinds of responses to God.
Atheists: Deny the existence of God and therefore dismiss any accountability to Him.
Agnostics: Reject God's relevance to their lives so they don't really pay much attention to God.
Secular Christians: Doubt God's concern for what happens in their lives so they resolve to live the best life possible on my own.
Genuine Christians: Believe God's involvement in each aspect of their lives so they are attentive as to how He wants to work in and through their lives.
Which category best fits your life? Let me make just one comment on the 'secular Christian' category.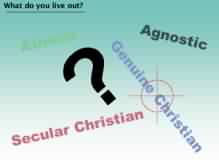 There are some people who really would like to be like Christ. They become a Christian. But they struggle with some sin. They get caught. They feel that they can't get out. As a result, they resign themselves to being a secular Christian.
They think like this, "If God can't help me overcome this sin, then He is not involved in my daily affairs." They let their experience dictate what they think and therefore separate themselves from the very solution to their problems.
They use this phrase, "I can't help it" as an excuse for their sin. But God does have a way for them to escape. It starts by repenting and rejecting any compromise with sin. Is there an area in which you have made a compromise? Would you not tell the Lord right now that you want His help to get rid of it?
Let's look at five observations about how Jesus lived out His life. They are all taken from John 5:19-20. Later on we will look at the larger context of this passage.
Jesus therefore answered and was saying to them, "Truly, truly, I say to you, the Son can do nothing of Himself, unless it is something He sees the Father doing; for whatever the Father does, these things the Son also does in like manner. For the Father loves the Son, and shows Him all things that He Himself is doing; and greater works than these will He show Him, that you may marvel. (John 5:19-20)
#1 Jesus depended upon the Father. Depend
The Son can do nothing of Himself (John 5:19a)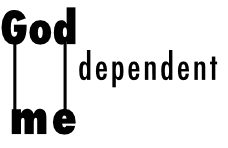 There is nothing good that can be done apart from the Father. All love, food, health, strength, grace, power, and wisdom come from Him. To deny our dependence upon the Father is to step into a form of idolatry where we think we can on our own or by some other power actually do good apart from Him.
Genesis 1-2 gives us one picture of man. Man is totally dependent upon, and we should add totally fulfilled in the Lord. The great introduction of wealth in this past century has enabled us to easily ignore God. Materialism has enabled us to lessen our trust in the Lord without knowing it. Why? Because we can now find solutions for all sorts of problems if you just have money. We think that we can handle life on our own.
Whenever we neglect acknowledging God's part in providing wealth and wisdom, then we are further seduced into this secular world. This happens so much that many evangelical Christians just don't pray or read God's Word. They think they can get by without God.
I heard a brother saying yesterday confessing that many of us just pray when we have some particular need that we can't meet on our own. God then becomes like a secondary God. If we are honest, many of us treat God has some extra god that we pull out of the closet and treat nicely to get something that we have difficulty obtaining.
The result of secularism is always living by our judgment and desires.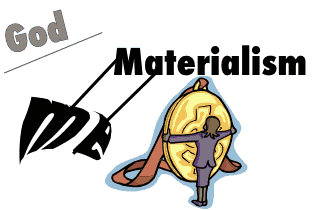 Let me ask you a question. Who was tempted the most with not trusting God? I believe it was Jesus. He was given powers and wisdom from God. But He protected Himself from this poisonous thought by living by His clear purpose statements. He kept dependent upon God even when He so easily could have managed on our own.
How much more each of us need to take the Word of God and remind us of His special provision for our lives. If we do not sense our dependence upon Him, then we will not pray. Perhaps we can gauge how much we idolize our own capabilities by the way we do not regularly pray.
Let me give you an example. Once on a mission trip to Russia, I sprained my foot on my first day. I barely managed to get back to my hotel room. I pleaded with God and wrestled with Him about my purpose of being there. For if it was not better, than I couldn't go and speak. Walking was critical. If I was in America, maybe I would have just accepted the sprain, seen the doctor and waited it out. But by relying on God, I had a perfectly well foot the next day and off I was evangelizing. Why is it that we make so many decisions in life without first talking to God? If we can decide things without God, then it shows that we are a secular Christian. This is not the way Jesus conducted His life.
Let me show you the way to recover Christ-like living. Like Jesus, review and commit yourself to your dependence upon God. We are not making ourselves believe a lie but instead living in accord with the truth. Remember John 1:3?
All things came into being by Him and apart from Him nothing came into being that has come into being. (John 1:3)
All our food, clothing, morals, health, wisdom, etc. are from God. What do we have that is not from Him? It is God Himself who decided to allow us to peek into His creation with microscopes. Why is it that we applaud the scientist who only discovered some tiny principle and not the Creator and Maintainer of this certain principle?
Young people. Be careful. Everything around you fools you with lies. The truth is that you are totally dependent upon God but don't act like it. You act as if you are not dependent upon Him. This is why Christianity is dying. God's people have forsaken God. They haven't even realized some ABC truths of life.
When we are aware of our constant dependence upon the Lord, then we will begin to worship Him and meet with Him each day. We will meet with Him not because we have to (some religious habit) but because we need to (I need to meet God). Dependence upon God is not a crutch but a proud declaration of the truth!
#2 Jesus learned from the Father. WATCH
Unless it is something He sees the Father doing. (John 5:19b)
Most Christians are confused about finding God's will because they are seeking their own desires. We need to start becoming God-focused. We are so pagan. Jesus shows us the second key to living a godly life: we keep constant watch as to what our Father is doing.
Again, if we thought that anyone didn't need to do this, it would be Jesus. But no, because Christ's deity was constrained, He had to learn just as we need to learn.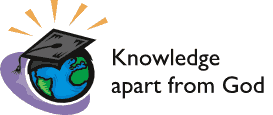 Modern education will cause you not to trust in the Lord. We spend hundreds of thousands of dollars sending our Christian children to college to learn how not to trust the Lord. Then we are surprised that most of them leave the Lord. The design of humanistic education is to make you knowledgeable apart from God. Now please don't misunderstand me.
There is nothing wrong with knowledge. God is the fount of knowledge. He made it! In fact we are to seek knowledge and wisdom. But the problem is that we rarely hear people tell us how to connect what we know with God. We are content to have the knowledge and degree thinking that is all there is. Don't be cheated.
This influence of modern education has so influenced Christianity, that Christians no longer think God is very relevant to life. Many churches around here have come out and said that. We essentially don't need God.
But let me speak about another area of life. What about power to live godly lives? Do you live a godly life? Can you? Has anyone ever taught you how to learn from the Father? How do you do it? Jesus learned from the Father and so should we. My guess is that only a handful could tell us how to do this. This is why there is no power or life in Christianity anymore. Christians don't live in His power and therefore there is nothing to proclaim to the non-Christians.
Jesus constantly was aware of what the Father was doing. We shouldn't spiritualize this or make Christ's relationship significantly different than what we can do through the Spirit.
The key is to observe or watch what God is doing in the world around us. This is a practical course on the sovereignty of God. Unfortunately many speak about the sovereignty of God as a theological topic but never are able to experience it. Jesus lived according to its truth. This is what we are supposed to do. Once we remember that God is in control of everything around us, then we can watch how God controls the events of our lives. We will pay close attention to timing.
Now remember, if you are not dependent upon the Lord through regular reading of His Word and praying, this does not work. You will not have the spiritual discernment to see the Father working. Satan can also tempt you through circumstance. But when we are regularly meeting with the Lord, then we need to start looking out how God is going to work out His purposes.
Let me give you an example. We were challenged yesterday for everyone to lead one person to Christ by the end of the year. So each of us start praying, "Lord save one person through me by the end of the year." Are you going to forget your prayer? No. Each day you will look at the people you meet up with and see if you can share the gospel with them. Then we can start paying attention to the people God brings into our lives in normal as well as in odd circumstances. This is called watching the Father.
Or say you are praying that God will help you overcome some fear. Pay attention to the Word of God when you are reading. Catch your thoughts as you are praying. See if God is not giving you an exhortation to help you from a testimony of a brother or an illustration of how a cat responded to a dog.
Let me give you an example. Our Elder Leaf shared recently how when he was exploring coming to Pittsburgh. He had an offer but didn't sign anything yet. He was trying to see whether God wanted him here. He came to explore. A Christian student found him out and invited him to come that Friday night to Campus Fellowship, the Chinese student fellowship. At the end of the meeting he met two leaders of the Campus Fellowship. One brother was off. The other who was in charge asked Leaf what he was doing. He shared how we was shortly leaving. After finding that Leaf was involved in student ministry in Tennessee, he took his hands in his and said this is now your fellowship. Leaf was looking and saw God at work.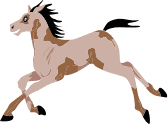 Or say we are praying that God would reach out to all nations through our congregation. We might be focused on reaching two special nationalities these next three months. We don't know who or how to get started. Pray and then watch your Father work.
Let me give one more example of how Jesus did this. Remember when we watch the Father, we need to keep meditating in the scriptures. In Mark 11:2 Jesus tells His disciples to go into the village opposite you and they are to find a colt tied there that no one has ever ridden. They are to until it and bring it to Jesus. And if anyone asks about what they are doing, they are to mention that Jesus has need for this. One might wonder how did Jesus know there was a colt that was never ridden upon?
Jesus knew it was time for Him to enter Jerusalem as King. He knew of a hidden away scripture in Zechariah 9:9 that is surrounded by prophecies of judgment.
Rejoice greatly, O daughter of Zion! Shout in triumph, O daughter of Jerusalem! Behold, your king is coming to you; He is just and endowed with salvation, Humble, and mounted on a donkey, Even on a colt, the foal of a donkey. (Zechariah 9:9)
What we see and look for is often shaped by the Word of God and our time in prayer. The Father passes hints to us when we need them.
We waste most of our prayers because we do not believe. If we believed, we would see our Father working and then we can join in with Him. This is the reason we need a spiritual journal. We keep track of what we have prayed and log what He is revealing to us through the day.
#3 Jesus did what the Father wanted. COURAGE
For whatever the Father does, these things the Son also does in like manner.
Jesus not only watched the Father open doors, but He also went through those doors and joined in working with His Father. This is where we need courage. We need to go forward. Do you remember what the Lord told Joshua over and over again in Joshua 1:6-9 to be strong and courageous.
Be strong and courageous, for you shall give this people possession of the land which I swore to their fathers to give them. Only be strong and very courageous; be careful to do according to all the law which Moses My servant commanded you; do not turn from it to the right or to the left, so that you may have success wherever you go. This book of the law shall not depart from your mouth, but you shall meditate on it day and night, so that you may be careful to do according to all that is written in it; for then you will make your way prosperous, and then you will have success. Have I not commanded you? Be strong and courageous! Do not tremble or be dismayed, for the LORD your God is with you wherever you go." (Joshua 1:6-9)
Now God has brought me and no doubt you into a great number of impossible situations. If we have been praying, the Lord will open a door. It is time to obey and do what we are supposed to do. If God brought a Muslim to you in answer to your prayer regarding opportunity to evangelize, then you need to follow through on your part. It is not the time to tell the Lord that you have never witnessed to a Muslim before. Remember God is in control. Just call out to Him for help.
Actually, it is awesome to remember that God is making life appointments. He is bringing us through difficult times and opposition. We need to carry out His will.
Almost four years ago to the day, the Lord brought my wife and I through a tough time. We were without employment. Fortunately, we had saved a good amount of money over the years though. And thought we were fine until we found a job. Well, the Lord did what He often does. He interrupted that normal process to bring us to the end of ourselves. He worked in both Linda's and my own heart. God wanted us to pay off the mortgage on our house. Guess how much that would leave us? Only a tiny bit left for immediate bills. I struggled with this a bit more than Linda but then on November 5th or so of 2000, I finally committed myself to do what the Lord wanted. It was nice to pay off the house. It was how God used that act of obedience to prepare me for another profound change in my life. Just two days afterwards in my brokenness that God showed me what He wanted me involved in.
These things happen all the time. Knowing God's will is one matter, but doing it is something else. We need to be courageous.
Jesus was faithful carrying out this third principle. He was courageous. Jesus didn't need to see the end before He carried it out. He knew the Father would provide and care for all. We see that for Jesus to go to the cross demanded so much from Him. Could it really be God's will to die such a horrible death? Who would care for the disciples and their weak faith? Who would care for His mother?
The point is that when the Father points the way, then we are to be obedient sons and obey. God will take care of all the needs. This leads us to the fourth point.
#4 Jesus trusted the Father to show Him all that is needed. LOVE
For the Father loves the Son and shows Him all things that He Himself is doing.
If we have not had a good relationship with our Father, we might have a trust problem. For the one thing, we might not know how to talk to our Dads. Secondly, we are not always sure of his motive. Sometimes you might think he is actually against you!
Our heavenly Father is never like this. His love is overwhelming. It is because of God's love that He invites us to join with Him. The Father loves the Son. The more we are aware of God's love and respond to Him, the more He can reveal to us. This is a pattern that goes on throughout our lives.
We have reached another point where we can give up though. Most of the things our Father ask us to get involved in are over our heads. We cannot do them on our own. We will discuss that in our fifth point. But we already have seen this through our examples. This is why Joshua and the millions of other Christians are asked to be strong and courageous. They need to take that step of obedience and then they will see God's provision.
Many of us want to see that provision first. We want to see how it will end before we are willing to step in. Sometimes it has to do with doubt whether we can handle it. Instead of saying that you don't know what to say to that person that is interested in the gospel or say you have no money to go where He sends you or strength to cope with the day, then you better realize that God is often bringing us to a place where we feel inadequate, inferior, foolish, impoverished or just plain bewildered.
The point is that God will show us all that is needed. If the circumstances around us are insufficient to help us through a situation, then you can be sure God will specially encourage you. God has done this many times. I shared last time how He out of the blue put two verses from the scriptures in my mind. That would have been enough to take the next step. I didn't put things quick enough together and had to suffer some consequences.
Our Father wants to get us involved in more of His work. I like it when my sons want to work with me in some job. Sometimes they are interested in only the fun parts. "Daddy, when are you going to clean the gutters?" He likes climbing roofs. When a Dad sees his son really wanting to be by his side, he is really glad deep inside. Part of it is wisdom. He knows his son can learn a lot by being by his side. If he can learn it now, then he will be able to do well in the future. Part of it is just the growing of the relationship.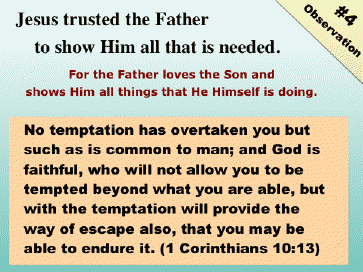 The Lord has again and again involved me in matters that I really can't handle on my own. Even this morning as I prepared this, I was crying out to God that He would work in the situation that I just mentioned about the many divorcees. There are thousands of broken marriages. What word of comfort does the Lord have? What 'hard things' need to be said?
Remember last year when someone anonymously gave the church $100,000 toward a building. God had spoken to his heart so he gave that sum. All through this past year we were taken all over the place regarding buying a building. This one gift was to me a special sign of confidence that would keep us focused. When the New Hope building was $3,000,000, it didn't matter. God was leading us. But we couldn't go beyond our means. We should simply trust Him for His timing. It seems that this long road is almost over. But the point is simply that the Father shows us what is needed that we need not sin.
1 Corinthians 10:13 is our backbone. God will never lead us into a situation that we cannot properly respond to Him. There is no temptation that is too great for us when we depend upon the Lord.
We all need to grow so much more but it is sufficient to know that the Lord can help us through any temptation when we trust Him. This is His specialty. This point naturally leads us into the fifth point. He so overwhelms us with humbling situations that the honor only goes to Him.
#5 Jesus will do greater works so that the Father is honored. PURPOSE
And greater works than these will He show Him, that you may marvel.
We rarely understand the purpose God has for His great works. Jesus does heal. He is compassionate. But there is a greater reason He does these things than just to help us out. First of all they give evidence to the glory of God. But more than anything it is to give us reason to praise and honor God. They create awe within us.
I couldn't help but think this when I saw Rod the other day. I heard he had some very rare stroke after his missionary trip. I found out that just weeks before he couldn't control his reactions like swallowing or focusing. It just so happened that the day I visited he was going home. He tested all fine. I was awed. God did a miracle. It did require that our brother would trust him during his healing time. I believe this is the beginning of a greater work that we cannot yet see.
The reason God often calls us into situations where we cannot handle it on our own is to bring glory to His Name. If we could do it, what glory is that to God? But when we become desperate and can't do anything on our own, we know it is Him alone that can do it. And when He does it, we are humbled.
God is interested in His honor. We might not be. But I look at life as a great praise service that the Lord is planning. Our lives are the instruments that plays forth songs of praise to His Name. He only needs to lift His arm and we play forth His praise.