The Properly Functioning Cell Group
All our activities, that are done in Jesus' name through the Holy Spirit, whether to a Christian or non–Christian,  are 'spiritual sacrifices.'  What are a few sacrifices you have offered this week to God?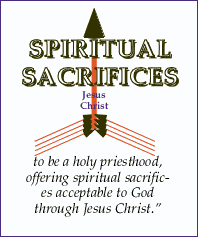 "I urge you therefore, brethren, by the mercies of God, to present your bodies a living and holy sacrifice, acceptable to God, which is your spiritual service of worship. And do not be conformed to this world, but be transformed by the renewing of your mind, that you may prove what the will of God is, that which is good and acceptable and perfect."                   Romans 12:1-2
Christ's disciples are able and eager to make disciples wherever God sends them.
Christ's disciples are dedicated to fulfilling their part of the Lord's worldwide kingdom development whether locally (evangelism) or in  distant areas (missions).
Christ's disciples are committed to demonstrating God's love to others in practical ways.
• Prayer through intercession
Christ's disciples know that the greatest works of God are accomplished by God's people simply but sincerely asking Him to do certain things on the behalf of others.
A Touching Illustration
 Paderewski, famous Polish pianist 
A mother was desperately trying to get her son to play the piano but he was not too interested. One day she heard Paderewski was coming to town for concert. She thought if she brought her son, he would be extra motivated to play.  SHe bought the tickets and they went together. after sitting down, she saw some of her friends and went off to talk to her friends and reminding her boy to set still. Not too long afterwards the boy went meandering around. At the back he saw a door and went in. he didn't know how to read the, "Do not enter" sign.  He walked and walked and finally saw a piano.  Well he just went over and started to play his simple lesson. The curtain lifted and lights dimmed.  Yet the boy oblivious to all just kept playing on the stage.  Suddenly an older man came up behind the boy and whispered in his ear "keep on playing."  Paderewski then put his left hand on the key board and then the right and began to play a most beautiful song out of the simple "twinkle, twinkle, little star" song the boy was playing.This story shows the awesome ways God is able to use our efforts in establishing His glorious kingdom.