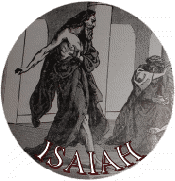 ENDURING JUDGMENT
INTRO TO ISAIAH 24-27
Introduction to Isaiah 24-27
People often complain of the injustice of judgment, but in fact, judgment brings justice to its zenith because the justice is completely served.
Sinners have no idea to what degree their sin and guilt have polluted the system of righteousness. God's judgment is very visible in these four chapters. The language is apocalyptic in style. The strong symbols clearly project God's powerful message. The historical era cannot be determined, but as a follow-up to chapters 13-23, we are not left to doubt its purposed impact on this world and God's people. God's righteous people are the focus; the dark background is judgment and calamity.
We must allow God to close this scene with judgment, but 24:14-16 brings life back into a threatening atmosphere. Some believe the righteous must avoid the great tribulation because of God's love. If, however, we look clearly at these four chapters, we see the righteous ones are standing in the middle of the judgment of the ungodly. The focus is not in the purifying of the unzealous people of God like in many places, but on the faithful Israelites and their experiences in judgment.
Chapter 24
God has not pronounced judgment on these godly people, but He still has ordained them to be in it. This turns our eyes on the theme, "The righteous coming through judgment."
We first see the fact of His people residing in the midst of God's judgment. No matter what our perspective might be, the righteous are still feeling the effects of the storm of God's wrath, though not because of their own sin. God will judge the society and if the righteous are part of that society, then they also will also suffer.
However, the righteous are full of an unexpected joy. Chapter 24 does not go into details but only shows that the righteous are surprisingly joyful about a seemingly unjust situation. Although the godly are suffering because of others, they are full of joy. Ironically, the unrighteous, the lawbreakers, deserve the full fury of God's wrath but arise and curse God as if it is unjust!
Chapters 25-27 Overview
Chapter 25-27 These next three chapters of Isaiah (25-26) really help us understand how the righteous spiritually endured these extremely difficult circumstances. Their prayers, songs and other glimpses of their experiences are seen here.
We might say quickly it is impossible, but the prophet and his friends endured it. And since they endured it, so can we, if necessary, endure pain, suffering and undeserved treatment. It is not impossible to keep our eyes fixed upon our God. Chapter 25 features the 'Hope displayed in judgment' and in chapter 26 displays our 'Confidence shown in judgment'. God's people have endured in the past, and they will in future difficult times. Chapter 27 shows us how they endured it.
Chapters 25 'Hope displayed in judgment'
Hope can radically change our lives. Some psychologists would say it does not matter what the hope is, just so there is hope. However, the hope God gives His obedient people has substance and future reality.
God does not give us a dream but a real expectancy of a future good. This is the first key issue. And we must know how God is working out His divine will. Isaiah knows and tells the people how the judgment is working out according to schedule.
Genuine hope does not only explain the present difficulties but also presents something to look forward to (25:6-8). God's plan includes both judgment of the wicked and the strengthening of the righteous. Hope can be derived from one more area. Hope also comes from the judgment of our enemies. This relieves us from anxiety of revenge. This brings the deep personal peace so needed within the most difficult circumstances. God surely settles every account.
Chapter 26-27 'Confidence shown in judgment'
This hope is really special, and it can be received by all of God's people. God really can help His people endure terrible hardships. We see this in the three areas where the righteous show their trust in God.
1) They will have a song to sing out the hope of victory.
2) They will show their deep confidence in God through sincere prayer.
3) They will also bring others into this deep trust of God.
They will share who God is and what He is doing. These righteous ones have shown God's grace to be sufficient for their endurance. God can in the same way help us by showing where we can gain hope and areas we need to show trust in.
Chapter 27 'The foundation of endurance'
You might wonder how all this is possible. But it is!
This is Isaiah's message in this chapter entitled 'The foundation of endurance'. Our hope is from God and in Him. Our confidence is not in ourselves. God keeps His people (27:2-6). He will care for His people with such intensity that we can hardly believe. He protects His people. He will destroy her enemies. God Himself will make peace with those desiring to make peace.
God will use these judgments to make His people to increase their godly character. He use the judgments to reveal the identity of His faithful ones. God's plan is a mighty plan. it includes the judgment of the wicked as well as the strengthening of His godly ones. He is sovereignly working out His design to preserve His people of all ages for His glory.
Summary and Application
The righteous go through judgment because God takes them through it. They need not fear but in order to obtain this hope, they must hold onto it. God's loving design and promises become the basic reasons for our hope, trust and perseverance.
Are you going through any trials? How have you done during the testing? Have He given you a song to sing? Why or why not?