Grace is so commonly used in the scripture that a simple study can easily overwhelm us. We will focus on two aspects: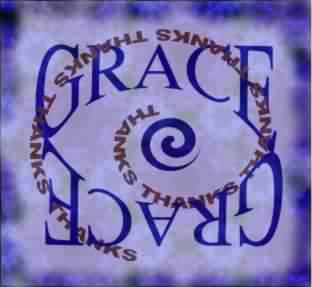 The Greek word charis is used 122 times in the NT when it is translated 'grace'. This word can also be translated 'thanks' such as in 2 Corinthians 9:15, "Thanks be to God for His indescribable gift!" God's goodness is so closely tied up with joy that thanksgiving is wrapped around it from beginning to the end. (See graphic). A close word to charis is chara which means joy (0). Whenever anyone treats us with favor, we are filled with joy and naturally respond with thanksgiving. The OT parallel word brings even a deeper meaning to this study. Let us now attempt to summarize this NT word grace.
Origin of Grace

God the Father (1), Son (2) and Holy Spirit (3) are the source 'of all grace' (1 Pe 5:10). God's grace simply overwhelms us with its glorious descriptions like: 'surpassing grace of God,' 'make all grace abound,' 'that grace might increase,' 'riches of His grace,' 'glory of His grace,' 'grace abounded,' and 'abundance of grace' (4). Jesus was known for His fullness of 'grace and truth' (John 1:14,16).
Impartation of Grace
God brings this saving grace to our lives 'by faith' (Ro 4:16) but always in 'accordance to grace' (Ro 4:16). Some insist that faith is our part of salvation but the scriptures insist we have 'believed through grace' (Ac 18:27) and 'saved through the grace of our Lord Jesus' ( Ac 15:11). The gospel is called 'the gospel of the grace of God (Ac 20:24). We are 'justified ... by His grace' (Ro 3:24; Tit 3:7). These all explicitly teach us to humble ourselves at this gift of grace (Eph 2:8-9).

Life of Grace
Our lives are significantly shaped by 'the word of His grace' (Ac 14:3, Ac 20:32). We are brought 'into this grace' (Ro 5:2). 'Grace to you' is wished at least 11 times (5). Grace is a frequent part of benedictions (1 Timothy 1:2; 2 Pe 1:2). We are now 'under grace' (Ro 6:14,15), through the grace (Gal 1:15; Ro 12:3), 'by grace' (6), 'with grace' (Col 4:6), and 'in grace' (2 Ti 2:1).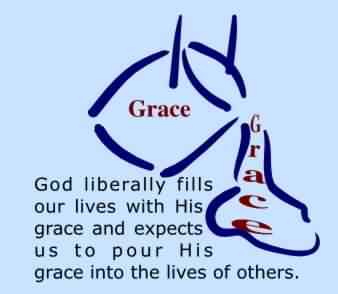 'Grace was upon them all' (Act 4:33). Jesus was 'full of grace' but now so are His people (John 1:14, Ac 6:8). God's 'grace is sufficient' (2 Co 12:9). Those getting caught in the web of legalism are 'fallen from grace' (Gal 5:4). We are 'commended' (Ac 14:26) and 'committed to the grace of God' (Ac 15:20). We must now 'continue in the grace of God' (Ac 13:43).

Ministry of Grace
The apostles had nothing to boast of. Paul 'received grace' for the ministry (Ro 1:5). Later he says it is 'through the grace given' (Ro 12:3; Gal 2:9; Eph 3:8). He ministers to others but soon afterwards speaks of God's people ministering 'according to the grace given' to them (Ro 12:6, 1 Co 3:10; 2 Th 1:12). As God has distributed God's grace so now all of God's people distribute God's grace to others. God's people are dispensers of God's grace!
Summary
In summary, favor comes from God and is abundantly given to His undeserving people. They are equipped and commanded to spread the gospel of grace to others through good speech (Col 4:6), acts of love (2 Cor 8:7) and the gospel of grace (Ac 20:4).
Grow in the grace and knowledge of our Lord and Savior Jesus Christ. To Him be the glory, both now and to the day of eternity. Amen. (2 Peter 3:18).


---
The Godly Man: "Grace and Graciousness"

_________________________
God's Common Grace - Matthew 5:44-45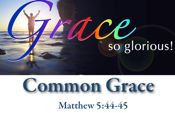 ---