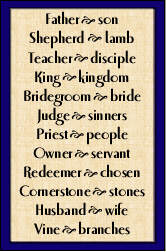 Cross Training basic discipleship series is designed for new Christians or Christians that need a good grounding in the Christian faith. This twelve–week series is founded upon Jesus' summary of all the commandments, 'to love God' and 'to love others.'

Much too often basic discipleship materials focus on the vertical relationship with God and have not sufficiently shown or challenged the individual on how Christ's commands relate to personal relationships.

Man cannot grow in relationship with God more than he is willing to grow in his relationship with man. The opposite is true too. Man cannot grow in his relationship with others more than he has in his relationship with God.

Although ideal for one-to-one discipleship, the material can be used for a Sunday School class or similiar teaching situation.

Father Child:
Bridegroom Bride
Cornerstone Stones
Husband Wife