The goal of many local churches is to maintain their programs and retain the present membership. Others are trying hard to stay alive. Have you ever wondered as I do, "Why isn't the church growing more?"
Younger Christians are not wrong in desiring to unleash God's powerful work in this generation. The Holy Scriptures were written to enlarge our vision. In fact, each generation is at the threshold of finishing Christ's Great Commission. Instead of wearing a cynical robe, we should join in the cry to God for grace to cause His great works to occur in our time.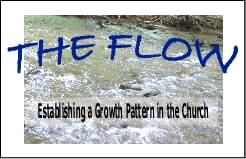 One thing is quite clear. The problem is never with God's supply of grace and love. Like the natural flow of a river, God's goodness comes rushing toward His people. His love is constantly streaming toward us. The supply of grace and love is not the problem. What then hinders THE FLOW of God's goodness and grace?
Certainly we can identify a number of obvious flaws in the church. Impurity, division and lack of love are only a few. These are real and must be dealt with. I believe, though, there is an underlying flaw that holds back THE FLOW of God's grace to our churches and lives. The truths of God do not penetrate the heart of His people to bring lasting change.
The problem with training in the church goes back many centuries. It was not resolved at the Reformation. The organization of the church, like clogged pipes, has pretty much guaranteed a sluggish stream of God's grace into our lives. We believe that THE FLOW will be part of a process to better understand what needs to be done in our churches. THE FLOW will allow the fresh and powerful streams of God's love to fill our lives and then flow out to the world.