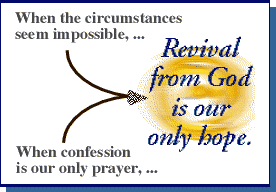 Revivals are both loved and hated, desired and feared. Genuine revival which renew great affections for God are greatly needed. Governed by firm biblical principles, we seek after a renewed heart for God.

Some of God's people face secularism's deadly knife; the zeal of others is diluted by polluted waters of materialism. Yet others bravely risk the waves of persecution.

But we all need revival. We all greatly need a great work of God to touch our stony hearts. We long for revival because we long for Him. We cry out for revival because we love the Lord's ways. May God increase His blessing upon the church today that we might carry the news of His amazing grace to the ends of the world.