Pray BFF Letter #321
---
36 Hours Before Takeoff!
Dear Prayer Partners,
Answers to prayer happen regularly with these trips. I often feel overwhelmed but then remember: many people are praying; the faithful past provisions of LORD;  that He sustains me in physical demanding times. Here are some prayers already answered: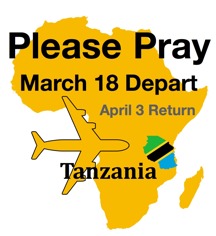 Praise
The final amount needed has just been promised! 
This morning as I told the Lord about my forgetfulness for certain Chinese words (like modern internet words that I never learned), I instantly discovered the Google Translate app which works offline and remembers your saved vocabulary!
Many projects have been completed!
None of my flights will be influenced by the grounding of the Boeing 737 Max.
No colds or flu
Daniel is now engaged to Meredith!
Here is my Tanzanian itinerary
March 21-23—Kahama: The Life Core: Discovering the Heart of Great Training
March 25-27—Tabora: Being an Overcomer: Faith's Triumph Over Temptation
March 29-31—Dar es Salaam: Building a Great Marriage
Pray:
Good health and strong throat for speaking up to 4 times on numerous days.
May the Lord watch over my family, ministry and extraneous things before, during, and after this STM trip.
For God's great blessing upon each attending pastor/leader and marital refreshment for couples attending the marriage seminar.
God's anointing on Paul and his translator (into Swahili) as they deliver  each message  
Fluency in Chinese and clarity for the last seminar.
Paul
Rev. Paul J. Bucknell, President, Author, and Instructor
Biblical Foundations for Freedom
---
Email: pb@foundationsforfreedom.net
Phone/text: (+1) 412*398*4559 (Mobile)
3276 Bainton St, Pittsburgh, PA 15212 USA
BFF Facebook: www.facebook.com/Biblical-Foundations-for-Freedom-BFF-209924859048429/
Paul's Twitter: @PaulJBucknell
Donations
Visit our Square account: mkt.com/bucknell where you can use your credit card to order or make a donation. BFF is an official 501(c)(3) nonprofit religious organization and able to offer tax deductible receipts for contributions in the United States. All orders go to BFF.
Join our Prayer Listings
---
Biblical Foundations for Freedom