The foundations of our modern society are cracking, and people we know are rapidly falling through them. The traditions that once held us secure and protected are no longer accepted. No church, family or individual now seems protected. Some staticians say there is no difference between the lives of the professing Christian and non-Christian.
"Help, LORD, for the godly man ceases to be,
For the faithful disappear from among the sons of men.
(Psalms 12:1).


The world is no longer just accepting our word that we have the truth. And in many cases, even the Christian now wonders whether he has the answer. Many live in perpetual defeat. God's people are asking what the song writer asked long ago.
"If the foundations are destroyed,
what can the righteous do?"
(Psalm 11:3)
Why was this question asked? It was simply because the godly person was being told to fight his problems the world's way. Listen to the godly man respond in Psalm 11:1,
"How can you say to my soul, "Flee as a bird to your mountain..."
What is the world's way? The world responds to godly living with two different 'easy' messages.
The first message is, "Give up." Of course the world doesn't use self-defeating terms like that. That would be too negative and unhealthy. Instead we are taught to believe our decisions are caring for the welfare of our lives and our families. We are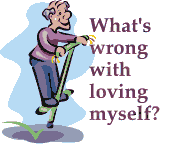 plenty busy. Too busy with things like 'our priorities' or 'our values.' But all those things take us away from the Lord. Essentially, we agree to put our major efforts at caring for physical and material needs and ignore the spiritual. We have come to believe and teach others that being a Christian disciple is the same as going to church. Once this is accepted, the second message is even easier to adopt.
The world's other message is 'me first.' We quickly come to believe that caring for ourselves is our major concern in life. If we do this, then all is well. We are taught that only if we first take proper care of ourselves, then we have the stamina to love others. And somehow, in caring for ourselves, we more than likely do not think of nurturing our spiritual lives. We just haven't been able to see the idolatry of selfism. God did not make us that way. God made a plan for us to join together and fight the enemies of God.

| | |
| --- | --- |
| We have only two options: | Which option do you choose? |
Peter said, "Where else would he go?"
The Psalmist said, "Whom have I in heaven but Thee?
Jesus said that we are not to hide our light under a bushel basket.
We preferred comfort over fighting. We took the worldly advice that leads to isolation and protectionism. Run to our churches. Jog in our suburbs. Hide in our homes. But the wickedness has followed us there! We thought we could have life like we once had. It wasn't ideal back a generation ago, but we were content with it. We took the world's advice and now that advice is causing great trouble to our stable lives. We think our children will like what we like, but they are rejecting our standards. Why? Because of our mediocre lives. Our marriages drain us rather than inspire others. We justify being bitter against a brother and our children do not like our kind of love. And frankly, our hearts are lukewarm toward the Lord.
What is the end result? We are not so convinced of the glory of Christ and the scriptures. We are not so sure it works. And the next generation sees through our half-hearted faith. They call it hypocrisy. They walk away from our faith. We simply do not know what to say to them. When we have doubts about our faith, we do not know what to think.
At Biblical Foundations for Freedom we hope by God's grace to rebuild that moral and spiritual foundation. The church in modern society largely has lost hope of living godly lives. We hope our developing resources help in three relevant matters:
Show how God's Word provides real answers to difficult personal problems such as bitterness, anger, worry, sexual difficulties, etc.


Share with you the reasons God's ways do work. Some of us do not have hope that God's ways really do help. But perhaps, if we better understand God's designs, it will help us more in our faith and trust in God and His ways. The more we understand how a certain medicine functions, the greater our confidence in using and recommending it.


By restoring our confidence in God's beautiful and glorious designs that result from a vital faith. The outcome of this kind of faith will generate a great hope and enthusiasm in the Lord that we will share with others. We want to be part of that new reformation in our very own context, "That men may tell of the name of the LORD in Zion, And His praise in Jerusalem;"


We realize that it is not easy to withstand the pressures around us. Temptations surround us, but we have been deceived on how to fight. We need to encourage each other to stand strong. We must remember that no matter how dark the night, a little light will always show up. Our task is urgent. Our challenge is clear. We are being called to muster forth all our strength, faith and love to renew our love for God.

What are we calling people to do? We summarize our mission around the three noble words found in I Corinthians 13: faith, hope and love.
Faith instills a trust in God's way and word.

Hope puts our eyes and hearts on what delights God.

Love transforms our focus and energies in life to serve God and others.

Seriously consider whether God would want you to pursue godly living along with other men. We realize that if we do not stand up, we will fall. If we do not actively seek the Lord, we will be deceived with the rest of the world.
CRACKING FOUNDATIONS
Biblical cross references (NASB)
Psalms 12:1-8
1 (For the choir director; upon an eight-stringed lyre. A Psalm of David.)
Help, LORD, for the godly man ceases to be, For the faithful disappear from among the sons of men.
2 They speak falsehood to one another; With flattering lips and with a double heart they speak.
3 May the LORD cut off all flattering lips, The tongue that speaks great things;
4 Who have said, "With our tongue we will prevail; Our lips are our own; who is lord over us?"
5 "Because of the devastation of the afflicted, because of the groaning of the needy, Now I will arise," says the LORD; "I will set him in the safety for which he longs."
6 The words of the LORD are pure words; As silver tried in a furnace on the earth, refined seven times.
7 Thou, O LORD, wilt keep them; Thou wilt preserve him from this generation forever.
8 The wicked strut about on every side, When vileness is exalted among the sons of men.

Psalms 11:1-5
1 (For the choir director. A Psalm of David.) In the LORD I take refuge; How can you say to my soul, "Flee as a bird to your mountain;
2 For, behold, the wicked bend the bow, They make ready their arrow upon the string, To shoot in darkness at the upright in heart.
3 If the foundations are destroyed, What can the righteous do?"
4 The LORD is in His holy temple; the LORD'S throne is in heaven; His eyes behold, His eyelids test the sons of men.
5 The LORD tests the righteous and the wicked, And the one who loves violence His soul hates.


Psalms 73:25
"Whom have I in heaven but Thee? And besides Thee, I desire nothing on earth.

John 6:67-69
67 Jesus said therefore to the twelve, "You do not want to go away also, do you?"
68 Simon Peter answered Him, "Lord, to whom shall we go? You have words of eternal life.
69 "And we have believed and have come to know that You are the Holy One of God."

Matthew 5:14-16
14 "You are the light of the world. A city set on a hill cannot be hidden.
15 "Nor do men light a lamp, and put it under the peck-measure, but on the lampstand; and it gives light to all who are in the house.
16 "Let your light shine before men in such a way that they may see your good works, and glorify your Father who is in heaven.


Psalm 102:20-21,
20 To hear the groaning of the prisoner; To set free those who were doomed to death;
21 That men may tell of the name of the LORD in Zion, And His praise in Jerusalem;


Biblical Foundations for Freedom