What is it going to take to be an overcomer?
We have before us the symbol and prescription for victory.

Symbol of victory

Let's make the Nike (brand name for running shoe)
running shoe our symbol for victory. The word
nike
actually comes from the Greek word
nikao
to overcome or gain victory. This is our symbol to overcome worry. It should remind us that we need to aggressively practice what we have been learning.
Without understanding our limitations and retraining our minds to think biblically, we have no victory. God will instill the strength we need for victory. Some of you will need to go back through the teachings and be more thorough in your application of the powerful truths we have been sharing. They have revolutionized my life and they will change yours too if you apply them.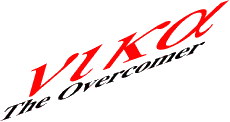 Prescription of victory

Overcoming requires a threefold prescription. It might not look like the list that you would normally think of. Especially the first point, but that has been our starting point all along.
(1) God came to help the broken, weary and anxious.

Jesus came to heal the sick. God came to bring peace to the anxious. This is our hope. I wouldn't be here if it was otherwise. We need to admit our failures, our needs and our sins
. Are they not all wrapped up together? Only those who are poor in spirit are able to go forward. Each prescription is designed for those with a certain malady. The Gospel of Jesus Christ makes the anxious both peaceful and joyous.
(2) Trust in God our Maker not in what He made.

We must refuse to trust in the things He has made. He said that He is even going to melt the heavens and earth. Does it make sense to rely on things that are unreliable? Or will you decisively put your trust in the glory and power of the unchangeable One? Those that come to know and trust God will find this peace.
"Whoever is believing in Him (Christ) should not perish but have eternal live."
John 3:16
(3) Perseverance. Some people start but never finish.
There are many runners who get inspired and then forgetful. They receive no applause. It is not the fast one but the one who continues to trust in God that wins the crown. An accurate translation of John 3:16 is "Whoever is believing in Him (Christ) should not perish but have eternal live." We need a constant faith.

This is the reason we need to retrain ourselves to constantly trust God for all things, not just for some one or two big areas of needs. People can apply these principles to one or two major anxiety problems and find some immediate relief from their troubles. This is fine but not good enough. They need to go all the way.

I challenge you, "Go all the way. Be an overcomer." God's perfect peace comes as we eliminate all our worries.


Let's see how one man had shown an overcoming spirit. Next page