The Chronology of Genesis
Genesis 5 and Genesis 11 Time Charts
Paul Bucknell


Genesis 5 and 11 both describe ten key generational figures, each taking about 1000 years which provides a great chronology of this ancient period. The pattern is clear. The last figure in the generations both have significant sons.
The dates are contrived by analyzing the year they were born in relationship to each other. One can see this better in the Noahic genealogy.
Genesis 5 & 11 Time Charts

If we think that it would have been impossible to know all of this information, then we should remember how long these guys lived! Adam died just a generation before Noah.

The above dates are accurately measured and derived only by the genealogical information from the scriptures starting with Adam at year zero. An amazing amount of information has been given to us. The big question is how does that dating coordinate with our modern dating system.
A Course of Ancient History in Abraham's Day
Abraham can be dated both by outside chronological events and circumstances. He is said to live around 2,000 B.C. There seems to be a connection point with the Genesis dating and the modern calendars. Note the chronological chart below diagraming ancient history. Abraham lived in the thriving 'modern' city of Ur, well testified to in archaelogical digs.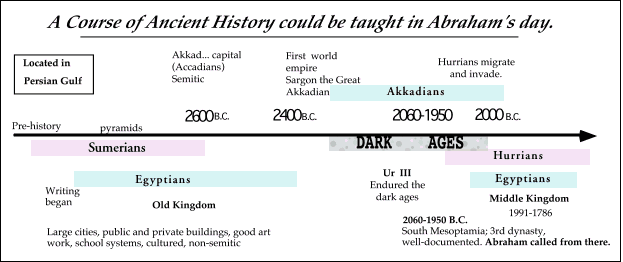 Genesis carefully records the beginning of man's history. To strip the time framework that the scripture gives to mankind is to take away from God's Word. Perhaps we need a bit more faith to face all the cave man and Neanderthal stories and myths. Then let it be. But God's Word will not change. It is the truth. It is not just conveyed to bring meaning but like the gospels are connected to real time events. Genesis 5 and 11 are completely different than what we would or could read elsewhere. Real people with real lives.
Certainly we learn about God's patience with man here. Man's ugly side is revealed all over Genesis and yet God the Father of time allows time to be extended to reach a climax. When there is a beginning (think Genesis), then there is an end. We have hints of it scattered throughout Genesis in figures like Noah, Abraham and Joseph, but will not see it in its entirety until the geneaology of the second Adam, Jesus Christ.
Let's go on and see how the content of Genesis presents its unity and complexity. -> GO