Pray BFF Letter #324
---
Looking for a Final Tailwind
Dear Prayer Partners,
God has been so gracious caring for the seminars and me. The weather, though hot, had no rains until the second seminar was over so I could nicely record. How fun to see the building I conducted the seminar in was signed by one of the sisters in our church 5+(?) years ago on a volunteer mission. Thanks Grace!
Everything went well there as planned. Very good response with many welcomes to return.
Today is already the last day of this last Chinese seminar in Dar Es Salaam, the biggest city in East Africa, having lots of congested roads. Besides preaching this morning at the Chinese church in this city (3+ years old), I will conduct the final messages for those coworkers gathered from several countries around this area like Ethiopia and Kenya. Still pray for fluency and a good stomach.
Praise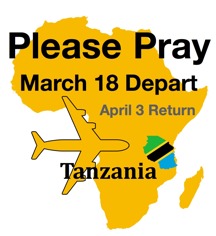 Safe travels and very gracious hosts wherever I have been. I have enjoyed the special Chinese foods!
I have experienced, on the whole, very good sleeping.
A special touch of God in the hearts of the hearers.
Everything normal and good at home.
Here is my Tanzanian itinerary
March 21-23—Kahama: The Life Core: Discovering the Heart of Great Training
March 25-27—Tabora: Being an Overcomer: Faith's Triumph Over Temptation
March 29-31—Dar es Salaam: Building a Great Marriage
Pray:
After today, I am largely free except for counseling/advice times.
I leave late Tuesday (early Tuesday for you) and begin the long way home.
Paul
Rev. Paul J. Bucknell, President, Author, and Instructor
Biblical Foundations for Freedom
---
Email: pb@foundationsforfreedom.net
Phone/text: (+1) 412*398*4559 (Mobile)
3276 Bainton St, Pittsburgh, PA 15212 USA
BFF Facebook: www.facebook.com/Biblical-Foundations-for-Freedom-BFF-209924859048429/
Paul's Twitter: @PaulJBucknell
Donations
Visit our Square account: mkt.com/bucknell where you can use your credit card to order or make a donation. BFF is an official 501(c)(3) nonprofit religious organization and able to offer tax deductible receipts for contributions in the United States. All orders go to BFF.
Join our Prayer Listings
---
Biblical Foundations for Freedom